Creating a 3D model of Duke Chapel

A photogrammetric point cloud from 1430 photos shot at Duke Chapel.
The largest point cloud processed from these photos contains 98 million points.
On May 17, 2016, a photogrammetry tutorial was conducted in Duke Chapel, led by Ed Triplett, Ph.D., a 2-year CLIR Postdoctoral Fellow in the University Libraries and Wired! Lab. A group of students, staff, and faculty spent the morning taking hundreds of digital photos documenting the interior of the chapel.

CLIR Postdoctoral Fellow Ed Triplett photographing in the
nave of Duke Chapel.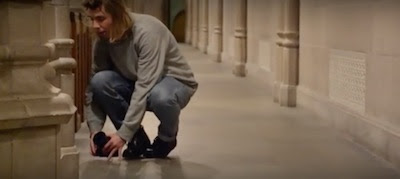 Lucas Giles, MA student in the digital art history program,
photographing column bases in Duke Chapel.
This tutorial introduced the practical application of photogrammetry as a means of capturing 3D data of large architectural spaces. The interior of the newly renovated Duke Chapel was an excellent subject that revealed some of the main challenges for this process, especially when it comes to capturing photos with consistent exposure inside dark spaces with dramatic lighting. The hope was to crowd-source the photogrammetry, thereby gaining a more complete 3D model than a single or even a handful of people could achieve in one session. The group teamed up with Duke Research Computing to use a cluster of recently acquired NVidia Tesla GPUs to process the photos as quickly as possible.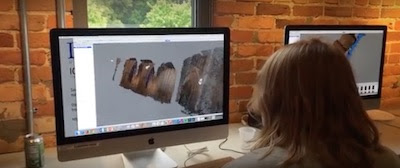 Processing the digital images in the Wired! Lab.
Photogrammetry can be defined as a reversal of the photographic process—where instead of capturing the 3D world into a 2D image, many overlapping 2D photographs shot from different locations are taken, and a 3D representation of the world is produced. These 3D representations can take the form of a dense cloud of points with x-y-z locations, or a mesh of polygons with photographic textures applied to them.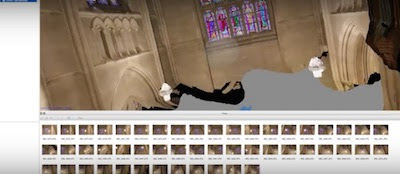 Processing the digital images in the Wired! Lab.
An article on the project was published in Duke Today. Videos of the procedures for capturing and processing the images, as well as an animation of a final point-cloud model are included: https://today.duke.edu/2016/05/3dchapel

A photogrammetric point cloud of Duke Chapel.