Spiritual Landscapes in Barcelona

Andrea Basso, Elisa Castagna, and Lucas Giles, Reconstructed choir screen of Sta. Chiara, Naples.
Caroline Bruzelius, Anne M. Cogan Professor of Art History, chaired the session, "The Echo of the Stones: Digital Humanities, Visualization and Modeling," at the conference, Second Days: Spiritual Landscapes, June 14-16, 2017 in Barcelona. Speakers in the session included Bruzelius, Lucas Giles (MA '16), and Umberto Plaja (Trinity '10) from Duke, and colleagues from the University of Padua: Professor Andrea Giordano and students Andrea Basso and Elisa Castagna, both of whom were semester-long visitors at Duke during Fall 2016.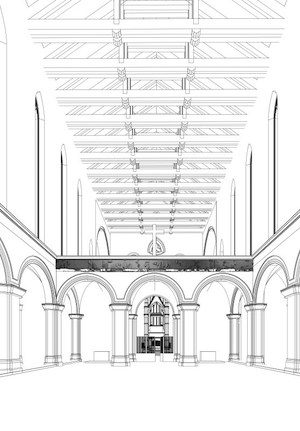 Bruzelius and Giordano spoke on "Digital Humanities and History" and "Invisible / Visible. Modeling as a Working Method." Basso, Castegna, and Giles discussed "From the Historical Survey to the Creation of a Three-dimensional Interoperable Model." Plaja presented "Space in Time: Visualizing the Organic Transformation of a Site - San Lorenzo Maggiore in Naples."