New Publication: Concerning Consequences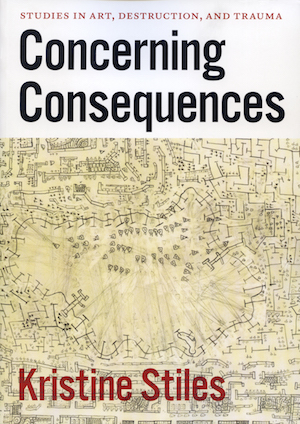 Concerning Consequences: Studies in Art, Destruction, and Trauma, by Kristine Stiles, France Family Professor of Art, Art History & Visual Studies, has just been published by The University of Chicago Press.
The publisher notes:
"Kristine Stiles has played a vital role in establishing trauma studies within the humanities. A formidable force in the art world, Stiles examines the significance of traumatic experiences both in the individual lives and works of artists and in contemporary international cultures since World War II. In Concerning Consequences, she considers some of the most notorious art of the second half of the twentieth century by artists who use their bodies to address destruction and violence.
The essays in this book focus primarily on performance art and photography. From war and environmental pollution to racism and sexual assault, Stiles analyzes the consequences of trauma as seen in the works of artists like Marina Abramovic, Pope.L, and Chris Burden. Assembling rich intellectual explorations on everything from Paleolithic paintings to the Bible's patriarchal legacies to documentary images of nuclear explosions, Concerning Consequences explores how art can provide a distinctive means of understanding trauma and promote individual and collective healing."
In his review, Douglas Kahn, University of New South Wales, Sydney, observes:
"An incredibly ambitious book by one of the world's preeminent art historians. Stiles's work is theoretically sophisticated; the detail through which she speaks is clear evidence of years spent with living artists and archives; and her style and argumentation are accessible, fluid, and engaging. Concerning Consequences asserts the importance of seeing artists on their own terms."