15 Years after 9/11
Duke Today featured two departmental faculty members, Carla Antonaccio, professor of classical archaeology, and Pedro Lasch, associate research professor of visual arts, in the August 15 issue in "15 Years after 9/11."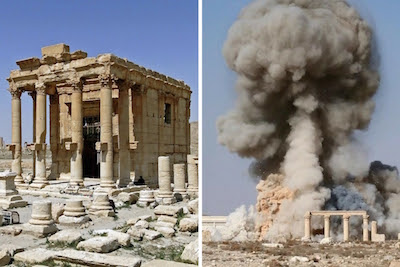 The Temple of Baal-Shamin in Palmyra, Syria, before and after it was destroyed by ISIS. Photos courtesy Bernard Gagnon, BBC News
Antonaccio discussed the ancient archaeological sites that have become battlefields in "Since 9/11, Archaeologists Struggle to Work Safely": https://today.duke.edu/2016/08/911-archaeologists-struggle-work-safely

Pedro Lasch with one of the paintings from his "Phantom Limbs" series. Photo by Julie Schoonmaker.
Lasch discussed the challenges artists faced following the 9/11 attacks in "Making Art in a Post-9/11 World": https://today.duke.edu/2016/08/making-art-post-911-world.