New Faculty: Edward Triplett, Ph.D.
Edward Triplett, Ph.D.
Lecturing Fellow in Art, Art History & Visual Studies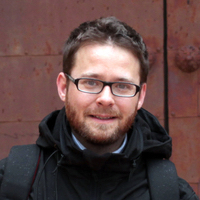 Ed Triplett joins the department as lecturing fellow in art history and visual studies. Triplett originally came to Duke in 2015 as a Council on Library and Information Resources (CLIR) Postdoctoral Fellow in the Wired! Lab and University Libraries tasked with data curation for visual studies. He continues to work with the Wired! Lab and other digital scholarship groups on campus.
Triplett received a Ph.D. in art and architectural history from the University of Virginia in 2015. He also has an M.F.A. in 3D modeling and animation from Savannah College of Art and Design, and an M.A. in history and museum studies from the University of Delaware. His dissertation focused on fortress-monasteries and castles occupied by Iberia's military-religious orders, and he continues pursuing his two main interests: medieval architecture and historical and cultural visualization.

From Duarte de Armas , The Book of Fortresses, 1510.
Triplett will teach courses this year on historical mapping, medieval castles, and Gothic cathedrals. His publications include a chapter in Digital Methods and Remote Sensing in Archaeology (2016), discussing historical uses of photogrammetry and 2D and 3D viewshed analysis and an article for a special issue of Historical Geography (2017) discussing architectural projections of power and influence on medieval Iberia's fluctuating frontier. His collaborative digital project seeks to spatially reconstruct The Book of Fortresses – a bound collection of perspective drawings and plans of 58 castles on the border between the kingdoms of Portugal and Spain in 1509-1510.