New Faculty: Paul B. Jaskot, Ph.D.

Paul B. Jaskot, Ph.D.

Professor of Art, Art History & Visual Studies and Director of the Wired! Lab in Digital Art History & Visual Culture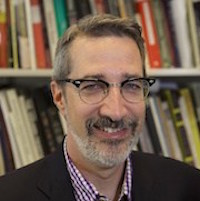 Photo Credit: DePaul University/Jeff Carrion
Paul Jaskot is joining Duke as a professor of art history and director of the Wired! Lab for Digital Art History & Visual Culture. Jaskot was previously professor of the history of art and architecture and director of Studio χ at DePaul University. He specializes in the history of modern German architecture and art, with a particular interest in the political history of architecture before, during, and after the Nazi era. He has also published on Holocaust Studies topics more broadly, modern architecture including the history of Chicago architecture, methodological essays on Marxist art history, and diverse topics in digital art history. He has authored or edited several monographs and anthologies, including The Nazi Perpetrator: Postwar German Art and the Politics of the Right (University of Minnesota Press, 2012) and with Gavriel D. Rosenfeld, Beyond Berlin: Twelve German Cities Confront the Nazi Past (Social History, Popular Culture, and Politics in Germany) (University of Michigan Press, 2008).

From Jaskot's current mapping project, which examines patterns of commercial, governmental, and infrastructural building in western and Nazi-occupied Europe.
Jaskot has also been deeply involved in digital art history issues for the past decade, both as a scholar and as an advocate. In this role, he has been part of the Holocaust Geography Collaborative, an international team of scholars that has been exploring the use of GIS and other digital methods to analyze central problems in the history of the Holocaust, including issues rising from the built environment. He has worked most closely with Anne Kelly Knowles (University of Maine), co-authoring several presentations and essays with her, most recently as part of the anthology Geographies of the Holocaust (University of Indiana Press, 2014), the first volume on the use of GIS for the study of the Holocaust. This work has been funded by the National Science Foundation and the National Endowment for the Humanities, among other sources.
From 2008-2010, Jaskot was the president of the College Art Association (CAA). With CAA, he has also participated in various task forces promoting the support of and guidelines for digital art history and its professional evaluation. Jaskot and Knowles also co-directed the Samuel H. Kress Foundation Summer Institute on Digital Mapping and Art History. He continues to be active with CAA and with the promotion of digital art history initiatives nationally.