A Portrait of Venice: Jacopo de'Barbari's View of 1500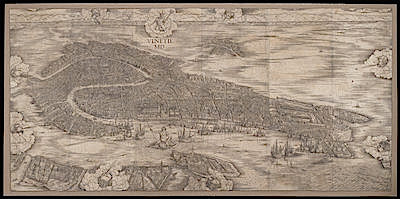 Jacopo de'Barbari, View of Venice, 1500, c. 1460/1470-1516 or before. Woodcut from six blocks on six sheets of paper, 52 1/4 x 109 1/4 in. (132.72 x 277.5 cm) (sheet). Minneapolis Institute of Art. The John R. Van Derlip Fund. 2010.88. Photo courtesy of the Minneapolis Institute of Art.
September 7 – December 31, 2017
The Nasher Museum presents a multi-media exhibition that brings to life the city of Venice through Jacopo de' Barbari's iconic View. Printed in 1500, this mural-sized woodcut portrays a bird's eye view of the city that was instantly recognized as a technological and artistic masterpiece, a portrait of an urban marvel. No other city view rivaled its grandeur, ambition, or detail. With staggering precision, the View of Venice visually describes the dense fabric of the city—thousands of buildings, hundreds of bridges, and a complex network of islands, canals, narrow streets, squares, and wellheads. The original print is on loan from the Minneapolis Institute of Art.

Jacopo de'Barbari, View of Venice, 1500, detail.
For the first time, this exhibition animates the View of Venice with interactive displays that tell the stories of one of the wealthiest, most powerful, and greatly admired cities in the early modern world. Touchscreens reveal the production of this extraordinary print as well as the historical and social themes that emerge from the image: the celebrated uniqueness of Venice, detailed city views, women and men, the state, religious life, collections, and lost treasures. An augmented reality highlights the stunning continuities and remarkable transformations to the city in the more than 500 years following the View's publication in Venice.

Jacopo de'Barbari, View of Venice, 1500, detail.
This exhibition is curated by Kristin L. Huffman, instructor of art history in Duke University's Department of Art, Art History & Visual Studies. The project, part of the Visualizing Venice initiative, is the result of multi-disciplinary and collaborative research developed over three years in the Wired! Lab at Duke.